Coaches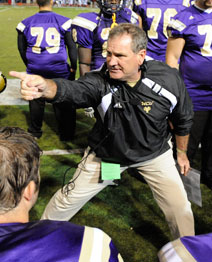 Coaches from the Pennsylvania State Athletic Conference (PSAC) petitioned and elected the Association of Pennsylvania State College & University Faculties to represent them as their sole and exclusive collective bargaining agent.

APSCUF coaches are unique in the sense that the APSCUF coaches' collective-bargaining agreement established national precedent in 2002, with APSCUF being the first union to organize non-faculty athletic coaches in a public higher education system.

By joining APSCUF, you are supporting not only yourself, but your peers, the coaching profession and your student athletes. Union membership also shows team spirit with your own colleagues and other unionized employees at your university.
What can APSCUF do for me?
APSCUF provides the following services for nearly 6,000 faculty and coaches:
Asserts your federal, state, and contractual labor rights
Files unfair labor practice charges
Assists with the grievance procedure and arbitration
Provides representation in discipline and discharge proceedings
Conducts meet-and-discuss sessions with state and local university officials
Bargains collectively for the best possible contract
Lobbies state legislators on issues of interest and keeps members informed
Advances coaches' priorities with the public and news media
Obtains a variety of members-only benefits like discounts on home and auto insurance, and cellular phone service; and
Maintains a retiree organization (APSCURF).
What can I do for APSCUF?
The difference we've made
| Prior to collective bargaining (June 2002) | Today |
| --- | --- |
| Coaches negotiated wages and working conditions on their own. | Coaches have livable minimum salaries that continue to increase, along with pay equity awareness. |
| Coaches had no job security, no just-cause provision, no representation rights, and faced the threat of termination at the university's whim. | APSCUF coaches have a just-cause provision, representation rights and job security through rollover contracts of employment. |
| Coaches had no rights to a buy out of their contract. | APSCUF coaches have a contractual right to a buyout of their contract, if nonrenewed. |
| Coaches had no grievance rights. | APSCUF coaches have a grievance procedure. |
| Coaches had no sick leave, no personal days, no flexibility with nonservice time. | Coaches have sick leave, personal leave, a sick-leave bank and sick-leave payout upon retirement, and a maximum 47-week service period. |
| Nonexempt coaches received no straight-time or overtime pay for hours worked beyond the normal workweek. | Nonexempt coaches are paid fairly for all hours worked beyond the normal 37.5-hour workweek. |
Coaches negotiations updates
APSCUF's coaches contract expired June 30, 2015. Visit the press-releases area for updates on contract negotiations.